Am I a small energy customer?
Under national energy laws, businesses that are 'small energy customers' have similar protections as residential customers.
Small businesses can use Energy Made Easy to compare energy plans. Larger businesses must contact retailers individually to find out what plans are available to them and to negotiate prices.
The national energy laws operate in:
New South Wales

Queensland

South Australia

Tasmania

the Australian Capital Territory.
What is a 'small energy customer'?
Whether your business is considered to be a small energy customer depends on how much energy you use:
For gas, you are a small energy customer if you use less than one terajoule (TJ) per year.

For electricity, check the map or table below for the usage threshold in your state or territory.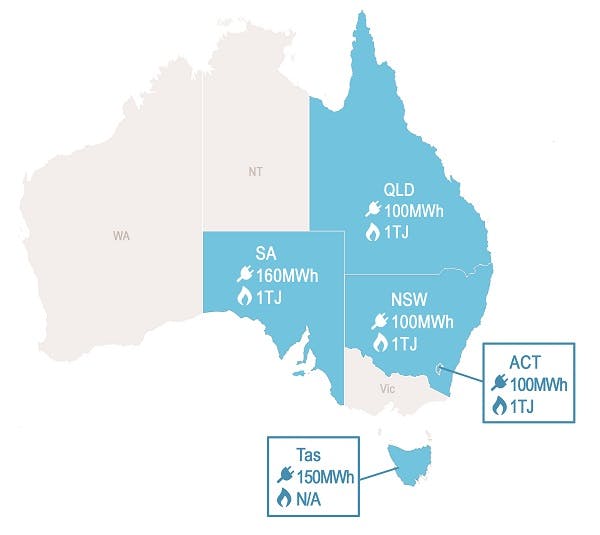 State Energy Thresholds

| State | Electricity Threshold | Gas Threshold |
| --- | --- | --- |
| QLD | 100MWh | 1TJ |
| NSW | 100MWh | 1TJ |
| ACT | 100MWh | 1TJ |
| SA | 160MWh | 1TJ |
| TAS | 150MWh | 1TJ |
Tip
If you're not sure how much energy you use each year, check your most recent bills or ask your retailer.
Remember that one megawatt hour (MWh) is 1,000 kilowatt hours (kWh), and one terajoule (TJ) is one million megajoules (MJ).
Determining energy use for a new business
If you start a new business, your retailer may look at the previous energy use of your premises to estimate what your annual usage may be.
For example, if you are opening a restaurant on a site that has been used as a restaurant before, the retailer may assume your business will use similar amounts of energy.
Your rights as a small energy customer
An energy retailer must:
give you a written summary of the plan when you sign up

tell you if there are any changes to a plan, including the price

give you bills that clearly explain your energy charges.
Last updated on Wednesday, October 25, 2023 at 1:53 PM