When you search for an energy plan on Energy Made Easy, you might find as many as 300 plans in your suburb, depending on where you live! So how can you reduce your search results so you can find the right plan for you? We show you how to filter your results by what is important to you.
Things that might be important to you include:
the discounts or fees attached to plans
how you can pay your bills
the frequency of your bills
only plans that include solar feed-ins, GreenPower or demand charges
You can filter all these options and more on the results page. Here is how to find the right plan for you:
Step 1: Start at our homepage and complete an energy plan search.
Step 2: When you arrive at the results page showing all of the available plans in your area, you can select the checkbox for any of the 4 options that appear at the top regarding monthly bills, no contracts, no exit fees and no credit card fees.
Step 3: For even more options, click the button labelled 'Refine by: discounts, fees, payments & more'.

Step 4: You will now see additional filter options categorised by 'Discounts', 'Fees', 'Payment type', 'Contract term', 'Retailers', 'Billing periods' and more. Choose the filters that are important to you, then click the button labelled 'Apply filters' to refine your results.
Note: If you selected your current retailer in the search form, it will appear first in the retailers list.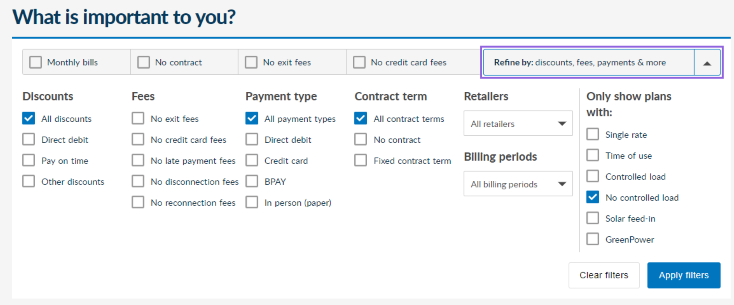 Once you have applied the filters to refine your results, you will be able to compare a smaller, more relevant set of energy plans that best match your preferences.
If you want to change your filters to see other available energy plans, you can simply change your existing selections, or click the button labelled 'Clear filters' to remove all of your previous selections and start again.
For example, if you're interested in seeing plans with no exit fees, BPAY, no contract and solar feed-in, choose those filters.